Asbestos gland packing AP-31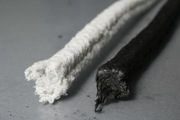 It is an elastic cord of a square cross section, twisted from an asbestos thread, impregnated with a fatty antifriction composition, graphitized. GOST 5152-84.
Section 4-50 мм.
Produced in coils and bobbins tied with twine. Coils are packed in paper or plastic bags, sack paper, or plastic wrap.
Coil weight 15-30 kg.
It is used in gaskets of fittings and pumps.
Working environments: air, neutral and slightly acidic solutions, oil products, gases and steams. Maximum allowable pressure: 4.5 MPa.
Working temperature: up to + 300°C.
Sliding speed up to 2 m/s.
The guaranteed shelf life is 5 years from the date of manufacture.
Storage conditions: closed storage rooms, protect from direct sunlight, keep at a distance of 1 m from heat-emitting devices.