Silicone gaskets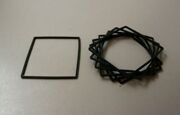 Silicone gasket (silicone seal) is a typical silicone product used in industry. Our company has the ability to manufacture silicone gaskets in various colors (white, colored, transparent). Vary in size and thickness. Silicone gaskets have better performance than regular black rubber and are more durable.
Benefits of using silicone gaskets:
• work at temperatures from -60 °С to +270 °С;
• resistance to pressure, radiation, compression, electromagnetic effects and aggressive environments;
• high strength;
• excellent flexibility;
• lack of smell, taste, toxicity;
• long service life;
• the possibility of using in medicine;
• does not support combustion;
• excellent recoverability;
• does not lose its shape when stretched.
Applications:
• · electrician (cable laying);
• · plumbing (mixer);
• · food (distiller);
• · power engineering (sealing of heating pipes).