Paronite PA
Paronite PA (reinforced)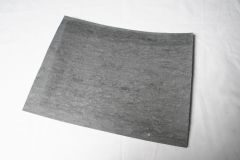 Reinforced sheet paronite (PA grade) is manufactured in accordance with the Specifications of GOST 481-80 and is intended for the manufacture of flat sealing gaskets. Due to the internal metal reinforcement, it has a second name - ferronite. For reinforcement, steel mesh No. 9 is used in accordance with GOST 3826. According to the State Standard, PA paronite is manufactured in all climatic versions (in tropical - with the use of fungicides). The minimum temperature of paronite, at which it remains operational, is minus 60 ° C.
Shape - sheets with a thickness of 0.8; 1.0; 1.2; 2.0 and 3.0 mm, standard dimensions from 400x300 mm to 1500x1000 mm.

Paronite gaskets with a diameter of up to 1500 mm are made from a single sheet, more than 1500 mm - from several parts by joining them in a "dovetail" or "overlapping" gluing.
Scope and operating conditions of reinforced paronite
Operating environment

Maximum pressure, MPa

Maximum temperature, °C

Type of sealed connection

Equipment types

Steam (superheated and saturated), fresh water (superheated)

10,0

+450

"Thorn-groove", "depression-protrusion", it is possible to seal "smooth" joints, provided the pressure of the working environment is not more than 4.0 MPa

Pipelines, shut-off and control valves, pumps, compressors, internal combustion engines and other units

Dry inert gases, air

7,5

+250

Light and heavy oil products, oil fractions

7,5

+400
The roughness of the surfaces to be joined for the installation of a paronite gasket should be no more than Rz = 40 microns.
At the request of the customer, paronite can be produced and supplied both in sheets and in the form of ready-made gaskets according to the customer's drawings.
Physical and mechanical properties of reinforced paronite
Parameter name

Value

Specific weight of paronite, g/cm3

1,9…2,5

The maximum increase in mass when holding the material for 5 hours in:

- kerosene at temperature of +23°C, %;

- in MS-20 aviation oil at temperature of +150°C, %;

8…21
28

Relative compressibility under pressure of 35 MPa, %

6…13

Recoverability after removal of the compressive force (35 MPa), %, not less than

30