Asbestos tape - LAE, LALE, LAT
LALE (Asbestos lavsan (asbolavsan) electrical insulating tape)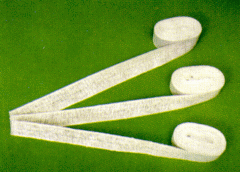 Asbolavsan tapes belong to the class of woven electrical and heat insulating materials and are manufactured in accordance with the specifications of GOST 14256-2000 (instead of GOST 14256-78). According to these state standards, the production of asbestos products of four grades has been established:
- LAE-1 and LAE-2 - electrical insulating asbestos tape;
- LAT - asbestos heat-insulating tape;
- LALE-1 - electrical insulating asbolavsan tape.

Asbolavsan tape is a woven strip based on asbestos yarn, where polyester fiber-lavsan is used as a binder. Weaving type - plain.

LALE is used as a semi-conductive coating for windings of high-voltage equipment: hydro- and turbo-generators, powerful AC machines, as well as a substrate for semiconductive varnishes and enamels, to protect coils of electrical equipment from thermal and mechanical damage, to insulate wires, cables, etc. etc. Working temperature: up to + 200 ° C.
Asbestos tape is produced in the form of rolls with a width of 25, 30 and 35 mm (± 1 mm) and a thickness of 0.35 ± 0.05 mm. The length of the tape in a roll is 30 meters. One roll of LALE brand tape is allowed to have two pieces (no more). The permissible length of one piece is at least 3 meters.


LALE-1 tape has a universal climatic design and can be used in tropical climates.

Symbol. According to the requirements of GOST, the symbol of the product includes: name, brand, value of the thickness and width of the tape, designation of the state standard. An example of the symbolic designation of an asbolavsan electrical insulating tape LALE-1, 25 mm wide: LALE-1 tape 0.35x25 GOST 14256

Appearance and parameters of visual control. In the middle of the asbestos tape, a colored cotton (or polyamide) thread is allowed. The products should be free of oil stains and other contaminants. The presence of brown dotted spots of colored asbestos is allowed. Metallic inclusions are not permitted. Violations of the edges of the asbestos tape, loops, undershoots, nicks and other defects can be no more than 1.5 mm.
Acceptance and marking

Asbestos tape LALE-1 of one brand and one standard size is subject to acceptance in batches. The total length of belts in a batch should not exceed 10,000 meters. Each batch is accompanied by a document certifying the quality, which contains:
- name of the manufacturer and / or its trade mark;
- product name with brand indication;
- the dimensions of the tapes;
- batch number indicating the date of issue;
- the number of seats in the party;
- total running length of products;
- stamp of the technical control section (STK);
- certified by STK test report;
- designation GOST 14256-2000.

Safety regulations
LALE-1 tapes belong to the group of non-combustible and explosion-proof materials. The asbolavsan electrical insulating tape contains chrysotile asbestos, and when working with the product, asbestos-containing dust may be released into the atmosphere. Areas of workshops, workshops and other industrial premises designated for working with asbestos-containing materials should be equipped with general exchange supply and exhaust ventilation, and local places of constant asbestos dust emission should be equipped with local exhaust. Direct removal of contaminated air into the external atmosphere is not allowed, it must be pre-filtered.
People working with asbolant must use overalls and personal protective equipment: respirators, gloves, dermatological protective equipment.
Waste tapes belong to the fourth hazard class. Waste disposal takes place by burial in pits. At the same time, spraying of material into the atmosphere during transportation and unloading should be excluded.

Packaging
LALE-1 tape is wound in rolls of 30 meters. The free end of the roll is glued with rubber glue. Received rolls of 10 pieces are packed in bundles. Rolls and bundles can be packed in boxes, bags or cloth. Other types of packaging can be used by agreement with the consumer. The mass of one package (including packaging) should not exceed 80 kg. Packaged products can also be formed into transport bags on flat pallets.

Transportation, storage, guarantees
Transportation of asbestos tape is allowed by all types of covered transport in accordance with the transport rules applicable for this type of transport.
The product should be stored in closed warehouses.
Subject to the conditions of transportation and storage, the manufacturer guarantees the shelf life of the LALE-1 tape for 10 years.


Physical and mechanical properties of asbestos lavsan tape
Product name and brand

Thickness, mm

Width, mm

Breaking load on base, N, not less than

Moisture content, %

Loss of matter on ignition,%

Electrical resistance, Ohm

Weight of one running meter of a product, g, not more than

Electrical insulating asbolavsan tape LALE-1

0,35

25
30
35

110
150
170

3

36

107…1,5*108

10
12
14
Weight of 1 r.m. of tape
Thickness, mm

Width, mm

Weight 1 m, g

Average value of weight 1 m, g

0,35

25

8,78; 8,28; 8,67; 8,70; 9,56; 9,00; 8,97; 8,89; 9,11; 9,13; 8,99

8,91

0,35

30

9,88; 10,94; 10,36; 10,28; 9,47; 10,43; 10,79; 10,59; 10,60; 10,24; 11,09; 10,30; 10,31; 10,08

10,43

0,35

35

12,27; 11,62;

11,9

Weight of 1 running meter of LAE-1 (ЛАЭ-1)

0,40

20

6,85 6,83 6,80 7,10 7,58 6,89 7,10 7,07 7,97 7,67

7,19

0,40

25

8,37 8,34 8,56 8,43 8,76 8,74 8,61 8,74

8,57

0,50

20

7,06 6,30 6,37 7,42 7,81

7,00

0,50

25

8,12 8,87 8,79 8,84 8,41 8,41

8,57

0,50

30

10,05 10,02 9,76 10,42 11,09

10,27

0,50

35

11,92

11,92

Weight of 1 running meter of LAT (ЛАТ)

0,50

20

6,62 6,84 6,97 6,98 6,54 7,00 6,93 6,81

6,84

0,50

25

8,49 8,67

8,58

0,50

30

8,60 9,75 9,18 9,50 9,96 9,97 10,37 10,10 10,03 10,03 10,26 10,31

9,84

0,50

35

11,10 11,65 11,85

11,53
Technical differences of the brake tapes LAT-1, LAT-2 and LAT-3
| | | | | |
| --- | --- | --- | --- | --- |
| Specs | LAT-1 | LAT-2 | LAT-3 | Chinese analogue of LAT-2 GB/T 11834-2000 |
| Maximum working pressure, MPa | 1,15 | 3,0 | 12,0 | 3,0 |
| Dry friction coefficient on cast iron SCh 15 (СЧ 15) | 0,4-0,5 | 0,45-0,6 | - | - |
| Dry friction coefficient on steel 35 | - | - | 0,46-0,6 | 0,4-0,5 |
| Weight gain when exposed to water,% | 12 | 8-14 | 15 | 14 |
| Mass increase when exposed to oil,% | 15,5 | 8-14 | - | No data |
| Impregnation type | Oil-resin | Oil | Rubber | Rubber |
| Brass wire reinforcement | Weft only | Weft and warp | Weft and warp | In all directions |
| Density, g / cm³ | 1,2 - 1,4 | 1,45 - 1,65 | 1,3 - 1,4 | 1,3 - 1,4 |